28 Apr 2008
•
10:19 PM
•
Journal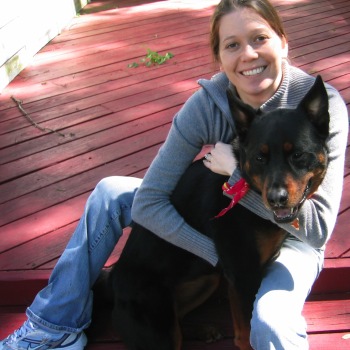 It sounds familiar, but I didn't remember.  Shannon and Ryan have their birthdays within a week of each other.  They both turned 30 this year, and they organized a party down in Houston.  I took a week and visited Houston.
First day was her actual birthday, so we did what she wanted.  She's a big nerd, we visited Lucy since the exhibit happened to be in Houston.  Apparently the fact that the exhibit is touring the world is pretty controversial.  The Smithsonian isn't accepting it out of protest, but Houston'll take it!  We also saw the DaVinci exhibit which was also kinda neat.
I also wanted to get a culinary taste of Houston, because I don't really remember trying to do that before.  All the places we went to were excellent.  Ryan and Shannon have good taste!  Ryan is a true foodie.  The places I remember were Breakfast Klub (Get the Wings and Waffle!), Strip House, Tortas El Angel (Best tortas this side of the border), and to top if off…. Feast.  Here is one person's experience. Ever since seeing that Bourdain-London episode, where he had random neglected pig parts, I've been wanting to give this stuff a try.  As it turns out, Ryan bought a couple books from the St. John chef and had heard that a former collegue of the chef opened upshop in Houston.  My mom and Ryan got the Ox Tongue fritters and I had the pig cheek.  I liked the fritters more, but the cheek was along the lines of mexican barbacoa.  It went well with the cabbage, and it was definitely an experience!
The actual birthday bash was a great time.  They had enough food to feed everyone about five times over!  The main attractions were the 2-60qt. stock pots on burners continuously churning out crawfish/corn/potatoes.  The crawfish were driven over from Louisiana and were still very alive.  They were cleaned, salted and dropped in the seasoned boil. The 40-50 people there didn't even make it through half of the crawfish! I have to say, my favorite part was the corn-on-the-cob, cooked in this spicy crawfish seasoning.  Then Ryan made gumbo on a 3rd turkey-fryer burner, which he was working on for a few days.  Real fish stock and a chocolate colored roux. THEN, just in case you didn't like any of that Lousiana-style stuff, they bought enough barbecue, crudités, cheeses for everyone two or three times over.  They also had a beer keg, wine, sodas, etc.   Good times!