23 Mar 2008
•
09:38 PM
•
Journal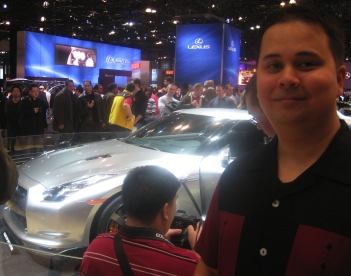 Keeping with the routine, still exercising and keeping moderate during the week.   I did have a day of excess yesterday though.  Some friends of mine were headed to the NYC Autoshow and I ended up tagging along.  On the way over, we stopped for a couple drinks.  I had my maximum 2 drinks and we continued on.  I didn't feel my usual "I wanna go home" feeling after drinking two, so the auto show was fine.  I am so over cars now that not even the Aston Martins or Bentleys did anything for me.  Just seems that everything looks the same now.  The only thing I liked in there was the Dodge Challenger.  I'm not sure if it was a concept or a production car though.   The new GT-R from Nissan sounded pretty cool, but looks similar to all the other cars that were there.  Unfortunately, that's the only car I took a picture in front of, because I didn't  think of taking pictures until the end of the show!
After the show we went to Hell's Kitchen and introduced Be to all the appetizers.  She liked some, but not others.  We definitely built it up too much for her, but whatever,  I had 2 tuna tostadas which is all I care about!   I had 2 Jack & Diet Coke's and then the waitress recognized me through a common friend, and we ended up with free tequila shots!
Unfortunately, it did not end there…  We got back to my place, and I opened up some of the old  tequila bottles I brought back from Mexico, but never tasted.  They weren't all that great even though I spent a bundle on them :(  I had about 2 shots and decided that was all for the night.  I was waking up at all odd hours, drinking water, feeling dehydrated.  Never got nauseus, but I didn't want to wake up for a while today.  It was a good day, but not one to repeat!