25 May 2009
•
01:08 PM
•
Journal
Another 2 months have passed so it's about time for another post!  Seriously though, I gotta get better at that.
I visited Houston again and took another few hundred photos of Rowan!  I rented lenses, a tripod, etc.  I find I tend to ignore some lenses while obsessing over others.  I thought I'd be spending most of the time with the 70-200mm, but I ended up taking 95% of the photos with the 50mm f1.2.  This is helping me decide which lenses I will buy for myself.  Even though you might not think that renting lenses makes sense when considering the actual cost of the lens, think again!  These lenses will last you a LONG time (as opposed to, say, computers and electronics)  There is more to the cost of a lense than the price, I think.  For me, there is a mental cost for buying a lens if it turns out I don't really use it that much, or I don't like it for some oddball reason.  That kind of thing drives me nuts!  So pay the 50 bucks to rent a $500 lens and run with it for a week.  Even if you are 90% sure you are going to buy it.
When I got back from Houston I committed to finally trying out Aperture and it's online printing service.  I heard good reviews of the updated apple printing service and I've been meaning to take a good look at Aperture and make a final decision (i.e. Lightroom vs Aperture)  I printed a 20 page softcover book.  After taxes and shipping, comes out to about $30.  The book didn't "feel" like $30 worth, but it's pretty good.  I think I might have to try the hardcover option to get a better feel.  I think it might be just because I only printed 20 pages.  Maybe if I printed more there would be more weight to it.  It would also be more expensive, but the price/page might go down.  Anyway, here is a quick snapshot: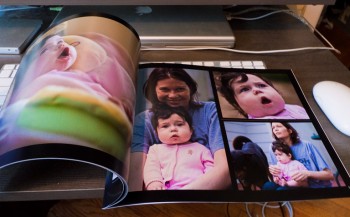 I also got a monitor calibrator from xrite, so the prints matched my screen very well.  I've made my final decision and here are my results of the Lightroom 2 vs Aperture 2 blowout:
Organization:  Aperture
I prefer the project>album organization of Aperture.  Basically a project is just a folder of photos, and the albums are "playlists" of those photos.  Lightroom has Collections which are the "playlists" of photos, but they are kept in a separate Collection block.  You can't have them grouped with particular folders.  This was the main thing that I liked better in Aperture with regards to organization.  Also, Imports all go into the same place.  Sometimes the folder changes in Lightroom and it takes me a while to realize what's going on.  Then I need to move everything around so it's all in one place again.
Adjustments: Lightroom
Presets and the non-destructive local edits.  In Aperture, you can save your exposure settings as a preset, or your white balance as a preset, but you can't save both of them together as one preset.  Although the Lift-Stamp tool does let you transfer these settings to another photo, you can't save it as a preset.  I suppose you could create one project called "Presets" and just put sample images in there, from which to "lift" settings.  Lightroom let's you package all the settings on a photo as a single preset.  This is probably why there is an online community of trading lightroom presets and not-so-much for Aperture.
Local Edits.  Both have a Dodge/Burn capability, but Aperture make a copy for you to work on, and Lightroom doesn't.  It works in a psuedo-layer, non-destructive way that is way cooler
Printing: Aperture
I never plan on purchasing a printer, so my prints will all be done online.  Aperture has a built-in facility to send the photos to Apple for printing.  It has your typical online options for printing such as books, calendars, etc and the pricing seems pretty standard.  Lightroom is built around local printing and doesn't have anything for online printing.  You have to rely on the software provided by the online printing services.  I've taken a look at mpix, whcc and blurb.  Although the quality of the output is one thing, I can't stand this software!  This was a HUGE gap for me in Lightroom.
Education and Community: Lightroom
Maybe it's because of Scott Kelby and his cohorts, but it seems that the quality of the educational material is much better with Lightroom.  It might just be their stuff just happens to fit my style of learning though.  With the Scott Kelby book,  LightroomKillerTips, and DigitalPhotographySchool, I feel that all that I would ever need to know is there somewhere.  There are a couple Aperture books and sites, but the Oreilly blog seemed to be the main one, and it doesn't seem to be updated all that often.
Random Points and Conclusion:
– Aperture lets you be much more creative in printing layouts than iPhoto.  But from what I understand, the actual print quality is the same.  I've found that iPhoto has all the creative ability that I need for prints.  I'm printing a duplicate book through iPhoto and will see if this comes out the same.  (The PDF was only 10MB where the Aperture PDF was 30MB) so we'll see.
– I hate the "modal" interface of Lightroom.  Where you have to switch from "Library" mode to "Develop" mode.  The keyboard shortcuts are different also!
– Camera RAW: I have an LX3, which Aperture doesn't support :(  Adobe is best when it comes to camera support.
As long as iPhoto printing works out well, my final decision is Lightroom + iPhoto (for printing)  In the end, it was the Local Edits that was the deciding factor.  For some reason, that was the one thing I didn't want to compromise on.  I was even ready to switch to jpeg on my LX3!
Update April 2009: The iPhoto book came in and it is as good or even better than the Aperture book!  So I'm definitely staying with the Lightroom + iPhoto solution for now.