05 Apr 2009
•
10:18 PM
•
Journal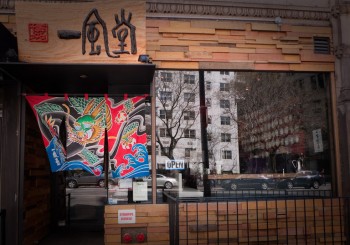 As I mentioned in a previous post, here is the website face lift. Very different than the previous theme. With a white background, you have to either use a vignette effect in the photo or add a thick border. I started with putting a border around everything.  I'm also trying the vibrant/vignette look on this photo, see how it grabs me.  I generally don't like it, but I think that's more of a feeling I have when I see all the photos in a gallery with the same effect.  We'll see if it grows on me.
So I've been working alot lately. I've been focused on a few high visibility projects and I'm about to reach my last major deadline next week. I should be ahead of schedule, so no stress this time. After this, I have another visit to Houston planned. Rowan started the solid foods! I get all misty just thinking about it! I'm renting lenses again, but I still haven't finished sorting through the last batch. A lot of good stuff, and I think I learned alot. This time will be even better.
Ippudo! Best ramen I've ever had. I've written about Ramen before and this puts to shame anything I've ever had. Rameniac released their 2009 NYC awards and I've gone around and tried 4 of the 10 on the list.  My old favorite (Menchanko Tei) was #10 :(    So back to Ippudo.  I've been there twice now.  They don't do the standard gyoza appetizer there.  Instead, their thing is a variation on a steamed pork bun, only it was 8.7 E25 times better then any steamed bun I've ever had!  Then the ramen.  The specialty is tonkotsu broth, which is a broth made from pork bones.  It's cooked so long that the broth actually becomes as thick as milk or melted butter. I tried the Spicy Ramen the first time, and I'm still dreaming about it!  They make the noodles fresh downstairs and even for thin noodles, they still had the "al dente" feel to them.
I feel a little guilty for writing more about Ramen than Rowan!  I'll put some more photos of Rowan up soon to make up for it!  You can always see more here as well.