05 Jun 2008
•
10:47 PM
•
Journal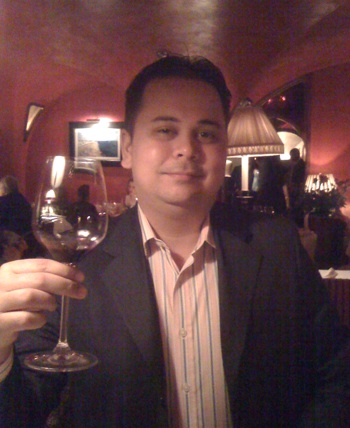 Ace graduated towards the end of May, and we celebrated by taking him to Bouley.  We went to Bouley, got the tasting menu and had the matching wines.  It's one of my favorite things in the world!  Note to self, "don't drink 2 Guinness before a multi-course meal!"  Grace couldn't make it, so KC filled in.  Great time, food, wine.  A friend introduced me to the term "smarmy", which is my latest source of amusement.  I think I have a few expressions which epitomize the feeling.  What do you think?  This is me in Bouley with one of the "smarmy" expressions.  I think I will pose smarmy for a while….
My Mr Ned suit is complete. (Wore it to Bouley)  I need to take a few more pictures of it to get a critique in the clothing forums, but I like it.  The only thing is that the armholes aren't as high/tight as I would have liked it, so it feels a little restrictive if I actually move around in the thing.  Other than that, it was a good first custom suit experience, and I will come back to get it "just right".  Great value too, since it's about the same you would pay for a decent "beginner's" suit at BrooksBrothers.  I got a very light 8oz wool, so hopefully I can wear this through the summer.
It has been a while since I updated this site, and I think it's because I've been planning a few changes.  I've been wanting to update wordpress, but my photo gallery plugin wouldn't have worked.  I'm not really a fan of managing my own gallery anymore, so I'm migrating to Smugmug. If you click on the photos link, you'll see that smugmug lets you customize it pretty heavily.  I customized it enough to make it seem like its the same site as everything else.  The CSS isn't perfect, and I'll be working on it.  I also got the random picture on the front look to smugmug. The next thing is to upgrade WordPress, which I'm looking to do this weekend maybe.