18 Aug 2006
•
11:00 PM
•
Journal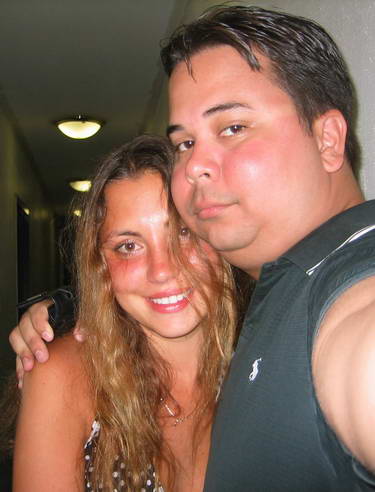 Last back-dated post..
Since I didn't get a chance to go to the beach the day before, we went on Thursday. Yana already scouted out the area and knew where to go. We took the B train, express to Brighton Beach. We caught it at 53 and Broadway, which is quite a peculiar corner. We walked by there about 3 times so far, and every single time, Yana had a sudden urge to go to the bathroom. Quite strange! After the bathroom break, we were on the train. For some reason, it never really sank in that there was a beach within reach of the subway! Brighton beach is a normal beach like you might find in TX. Only there are a bunch of Russians running around! We walked around on the main street for a while to see all the Russian stores. We found a street vendor selling many types of piroshkis. Yana wanted me to try all of them, but I only got 4 and took a couple home for friends. They were only a buck a piece! We then found a fresh fruit stand, and get about 5 pounds of fruit! 4 of those pounds were cherries. Yes, another one of Yana's favorites. I did not believe she could actually finish all that fruit. I can eat fruit, but 5 pounds!?
We found a spot at the beach, spread out the sheet and laid out. Just eating fruit and chillin' at the beach. Great time. A Mexican dude came by selling churros, and I tried to buy some with Mexican pesos. Unfortunately, that didn't work, so I fork over a couple bucks. Street Churros and fruit isn't really the greatest combination, but at least now we know. After a couple hours, I noticed Yana was still eating the cherries. I did a double-take and saw her eat the last one! I ate maybe 5 cherries. She took down the whole 4 pounds! Not to mention the plums and other stuff we got. Freak! Ha ha. We laid around long enough for me to get burned and tan lined around my sunglasses. After the beach, we went to check out Coney Island. It is a relatively short walk from Brighton beach, but the demographic completely changed. No more Russian, just various English dialects. It was quite a let down. There was old run-down carnival stuff all around. The only goal was to get a Nathan's hot dog, take some pictures, and take off. We found the Nathan's and got a hot dog. I didn't really get what was so special. The papaya places in town are at least as good as those. We ran into a break dancing troop with the cardboard and everything. We got a beer and some other "boardwalk food" and hung out for a while and watched them dance before heading back to Manhattan.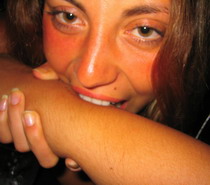 Back in Manhattan, and I finally broke down and took Yana to Go Sushi. She commented about going there every time we passed it. It's really just fast-food sushi, and there are tons of better sushi places all around, but I think she wanted to take pictures of the take-out displays they have. So we went there and sat near the window to do some people watching. It was funny, but I think this was her favorite place, of all the restaurants we went to. The next day, when her friend came into town to say good bye, this is where we took her!
After go sushi it was another long night at the usual places. We didn't get home until well after 4. From the pictures, I can tell I was pretty well plastered! She won't admit it, but I think Yana wasn't the most sober person in NYC either. Whenever I make a face for the camera, and one eye is bigger than the other, you know I've been drinking a little.
The last day, Yana's friend Tanya came into town and we all hung out before she left for Russia. I took her to the airport and her flight left at 9pm. It was quite sad, but we had a great time together. I'm going to have to visit Ekaterinsburg one of these days, but not in the immediate future. She said she will try and get in to Baruch College in NYC for her third masters degree! Most of her credits will supposedly transfer. So this might not be the last we see of our little Russian friend. Until then, this is the end of this story…
A quick note about the title. For some reason, I was reading the definitions of "circumstance" in the OED, and "incident" is one of its synonyms. So I thought it'd be funny to make a pretentious Ludlum-style title. Haha!