15 Aug 2006
•
09:52 AM
•
Journal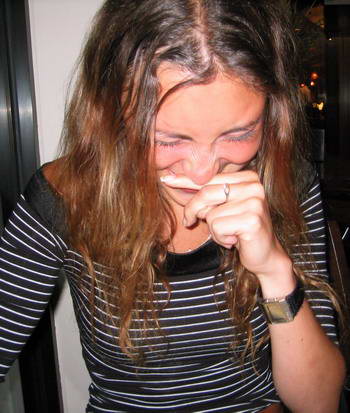 Another back-dated post…
I typically do not post about women. It just seems tacky to write about ephemeral relationships for some reason. I debated this one, and I finally decided it was one I wanted to chronicle and remember. I'm not going to write about emotions or any of that gossipy/chisme material. This will just be a narrative of the week.
As the gentle reader may recall, my TX vacation concluded with me casually inviting a beautiful Russian girl in Austin to visit me in NYC. I tell that to all my friends, so I didn't think anything of it. I went off to Vegas, had a good time, came back home.
After a few days back, while eating some bratwurst at a German place on 10th, my phone started ringing with "Yana" on the caller ID. "Who the hell…." I mutter. Then it registers. I almost tipped my chair getting up and went to a quieter area.
She decided to quit her job and go back home to Russia early. Her flight will leave from JFK, so she figured she'd come to NYC a week early and hang out. Maybe I could show her around? We chat for a while, and I finish the call by inviting her to stay with me and then plan to meet at the airport.
Flight shows up on time, and I meet her at the airport. Get back to the apartment and drop off her stuff. We decided to walk around Times Square, 5th Ave, and then get a few drinks. She had been away from Russia for a long time, and I mentioned one of my regular places is the "Russian Vodka Room" in my neighborhood. I didn't really want to bring it up, because it seemed kind of cheesy to take a real Russian to a Russian-themed place. She wanted to go though, and she loved it! People speaking Russian all around her, and we had pickled mushrooms and some other favorites of hers. She had a good time. We then went to a Shimizu, a sushi place on my street. Sushi turned out to be her favorite food.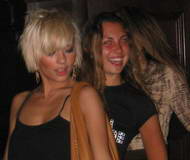 She also, apparently, really likes wasabi. She told me she likes that stinging sensation you get when you eat too much at once. Then she started doing that over and over again! It was a riot! Next stop was the Irish Rogue, a bar, if you couldn't tell. While we were there, 2 friendly girls from out of town sat near us. After the alcohol started flowing, and the music got louder, they started dancing very suggestively with each other. Yana and I were convinced they were lesbians, but they told Adam they weren't. In any case, they started flirting with Yana, and got her to get up and dance with them in a total lesbian dance sandwich! Quite a show! After that we visited the recently reopened Galaxy diner, which is now open 24 hours. While there, Yana tells us how crazy she is for tomatoes as well as mushrooms, so she orders the Portobello salad. She goes straight for the mushrooms, then tomatoes. She then takes each leaf of lettuce, one at a time, and puts about a half an ounce of ketchup on it, before eating it! Adam said, "Oh, now you're just showing off!" I think I threw up a little in my mouth! It was a great time..
This has more words than I thought it would, so I suppose I'll split this "Yana Circumstance" over a few posts.