25 Jun 2006
•
01:26 AM
•
Journal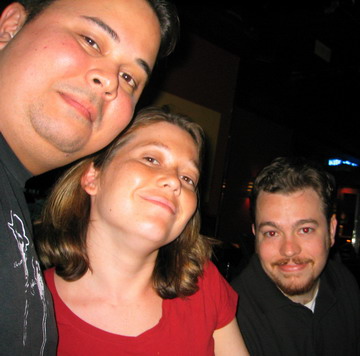 I had my birthday last week. My mom, sister and brother-in-law came from out of town to visit. My Mom arranged a big dinner on Sunday at a Spanish Restaurant called Casa Vasca in Newark. It was better than any Spanish place I've been to in NYC so far! About 25 people were there, all friends and family. I keep on forgetting how much family I have around here. Nothing like a big party to remind me! Pictures were taken, but I'm waiting for them to be sent.
The Friday before this Shannon, Ryan and I went to Per Se. Per Se is the NYC restaurant of Thomas Keller, the chef/owner of The French Laundry outside of San Francisco. Per Se is supposed to be a similar experience to The French Laundry, "but not the same, per se" The menu has variation every day, but there are some standard dishes. The July 3rd entry on this page does a good job of showing the type of food we ate. Each individual dish was the best I ever had. However, perhaps I didn't prepare properly, halfway through I started feeling full. That's the worst feeling when you are at a place like this, knowing that there is more of "the best" coming around. I definitely want to go again some day, but I will be better prepared. I'll go at an earlier time, because this does take a few hours, and I'll skip other meals that day. The price ended up being more than double the most expensive meal I've ever eaten, but I knew exactly what I was getting in to, and it is a life experience. I also gave them an extra $50 to get an autographed "The French Laundry" cookbook. It is an extraordinary book. I thought it was just going to be a coffee table book, but he lays out how to make the salmon tartare cones and the "Oysters and Pearls" (The most memorable things on the menu)
Saturday, was another "food day". We started out at Barney Greengrass, for smoked sturgeon and nova scotia salmon, eggs and onions. According to Anthony Bourdain, it's the best breakfast in NYC. I have to say, it is truly an experience. If I have had a better breakfast, I can't think of it. We then walked around looking for smoked/cured meats and cheeses in the Village, and ended up at Murray's Cheese Shop by accident, it was on the same Anthony Bourdain episode that Barney Greengrass was on! We also ran into a street festival, which was really cool for Shannon and Ryan to see. We eventually made it down to Katz's in the lower east side, and got the Pastrami and Reuben, and shared it between the 3 of us. I had always gotten the Reuben, just because I thought I liked it more than Pastrami, but I was sooooo wrong. The Pastrami at this place is out of this world! Way better than that Carnegie Deli crap! I know them's fightin' words, but there it is! After this we ended up at Film Center and hung out. Excellent weekend of hanging out with family and eating the best food in the world. Can't beat that!